Modular Welded Mesh Security Fencing System
Module wire mesh panel is a highly visible full-mesh welded panel with a galvanized and powder-coated finish. The barrier fencings are supplied in systemized metal panels with standard size for easy handling. Custom size available.
Modular fence panels can be supplied at economic cost with quick installation. We supply modular panel temporary fencing with following popular styles for export:

Temporary Portable Fence Panel for Canada Market
Width: 10 feet
Hight: 6-8 feet
Galvanized finish.
Outside Diameter: 32-42 mm
Gauge Thickness 16
With feet and clamps.
Modular Framed Mesh Panels for Australia Market
Frame pipe 40x1.5mm, panel size 2.1m h x 2.4m width; Panel wire dia. 4.0 mm, mesh 50x100mm welded.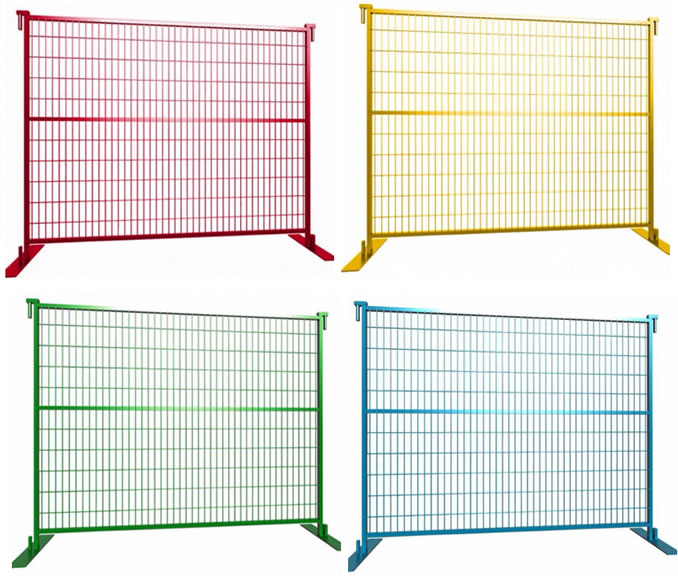 Specifications:
Size Height x Width:6ft x 9ft / 6ft x 9.5ft / 6ft x 9.6ft
Vertical pipe: 25mm x 25mm / 30mm x 30mm
Horizontal pipe: 20mm x 20mm / 25mm x 25mm
Wire diameter: 2.5mm - 4.0mm
Mesh size: 50mm x 100mm / 60mm x 150mm / 60mmx 120mm / 75mmx 150mm / 50mm x 200mm
Raw material: Hot dipped galvanized wire and hot dipped galvanized tube
Surface treatment: powder coated; galvanised
Color:Green, Red, Yellow, Blue.

Galvanized portable temporary fence with panels, fence bottom plates and top parts
Temp modular fence panel is a highly visible full-mesh panel with a galvanized and powder-coated finish. Temporary barrier panels are of triple wire construction for extra strength and rigidity, galvanized and powder-coated in high visible yellow. The panels also incorporate an integral base board.

We offer a wide range of systemized modular frames and 3D fence, from modular standardized production.
Powder coated standard cell / module temporary wire mesh fence with PVC green coated post column and base plate for perimeter security.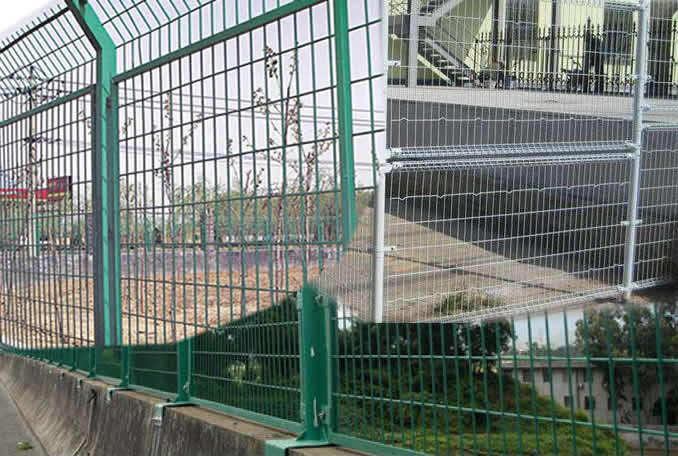 Wire Diameter of the Fence: 4.0-8.0mm
Mesh Hole of the Fence: 50x100mm, 12.5x76.2mm, 75mmx150mm
Line Post: 60x2mm, powder coated.
Height of the Fence:1m-2.5m
Center Distance Between Post: 2.5m-2m can be with razor wire on the top.
Surface Treatment: Galvanized or Powder Paint Color as customers' requirement.

Main Application:
Security fencing;
Protection from theft and accidents;
Secure building area;
Special event crowd control;
Crime and disaster scene security.
Fence Panel Styles
Anti-climb welded mesh panel fence;
3D curved mesh;
Double wire fence panel;
Roll top mesh panels.
Assortments of materials available:
Welded Stainless Steel Wire Mesh Panels;
Galvanized Welded Mesh Panels;
Hot-dip Zinc Plating Welded Mesh Panel;
Vinyl, pvc powder coated mesh.
We offer modular mesh fence panels while custom sizes and specifications are available upon request to meet your specific needs.
We also supply module mesh panels of chain link mesh and expanded diamond mesh.