Plastic Coated Mesh Panels for Security and Temporary Control Uses
Material: Plastic coated galvanized steel wire mesh panels.
Green Plastic coated steel portable fence is easy to install, either in-ground or above-ground, without the need to dig holes or damage the landscaping on which the event is held. Our products enjoy such properties as corrosion resistance, aging resistance, sunshine resistance and weather resistance. Guaranteed long-term use without rusting, Allow repeated use, rental, or resale, The horizontal pipes of the temporary fence are smashed flat to withstand higher loads.
Corrosion resisting form: PVC coated.
Colors available: Green, blue, white or other colors at customers request.
Applications: PVC coated welded mesh fence is mainly used for playground and gardens, super highway, railway, airport, port, residence, etc.

Green Coated galvanized Holland Mesh Fencing with plastic feet- 50*100mm Size:1.5-3m PVC coatedm for Australia and New Zealand Market

60x200mm 3d welded wire mesh curvy welded fence panels/ curved hot-dip galvanized welded wire fence panel

Modular PVC Coated Mesh Fence

Powder coated steel fence panels for perimeter security

System fencing system with green coated welded mesh panels, fencing gates and posts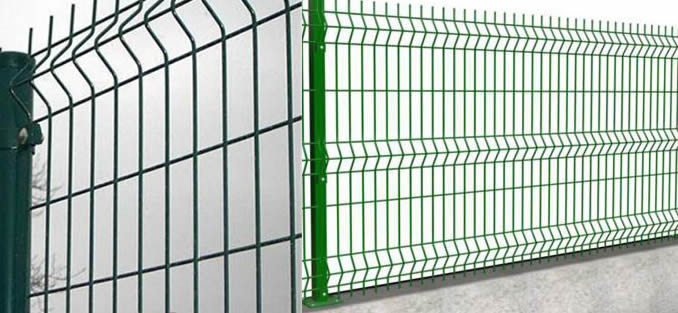 We offer various modular pvc coated mesh fence panels while custom sizes and specifications are available upon request to meet your specific needs.
We also supply powder coated chain link fences.